This post is also available in: Italian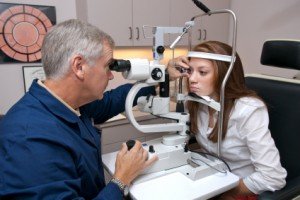 Hypermetropia is a visual defect in which the light rays coming from an object focus behind the retina (irregularly shaped eye or flat cornea). This occurs because the eye is shorter or the cornea flatter than normal and the crystalline has a low ability to focus. The light rays focus behind the retina rather than on it. There are no drugs that can prevent or treat hypermetropia. The traditionally used method for correcting hypermetropia is the use of glasses or contact lenses.
A young subject may be unaware of the defect due to his eyes' high ability to focus. Over the years, the lens hardens, the ability to focus decreases, and farsightedness becomes manifests more. Very high defects may, however, compromise vision even in a very young age. Hypermetropia can be compensated, within certain limits, by utilizing the accommodation, the natural mechanism that allows the eye to focus: this allows you to see clearly, but the effort exerted can cause fatigue. The hypermetropic subject is forced to use of converging lenses (positive) that coincide with the retina.
With advances in laser refractive surgery with LASIK, you can correct this by reducing or eliminating the need to use glasses or contact lenses. Where it is not possible however to perform an operation with laser, an alternative is the use of intraocular lenses.